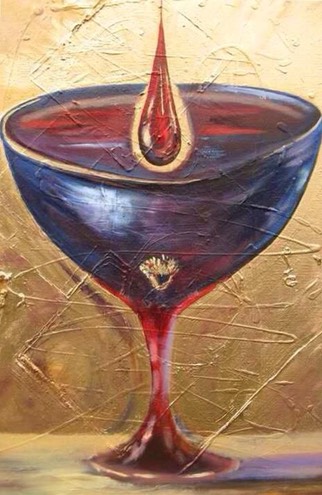 Painted by Vickie Conde
2 Titus 3, 4, 5, 6
But when the kindness and the love of God our Savior toward man appeared,
not by works of righteousness which we have done, but according to His mercy He saved us, through the washing of regeneration and renewing of the Holy Spirit,
whom 
He
 poured out 
on us abundantly through Jesus Christ our Savior,
I painted this on Good Friday, while in a fast and prayer.  I and became still and quiet.  As I sat before the 'gold painted canvas' praying, slowly I became aware of an 'outline' of the cup.  It was already underneath the gold. All I needed to do was follow what already had been done.  I started at 6 p.m. and by 11 p.m.   
IT WAS FINISHED!