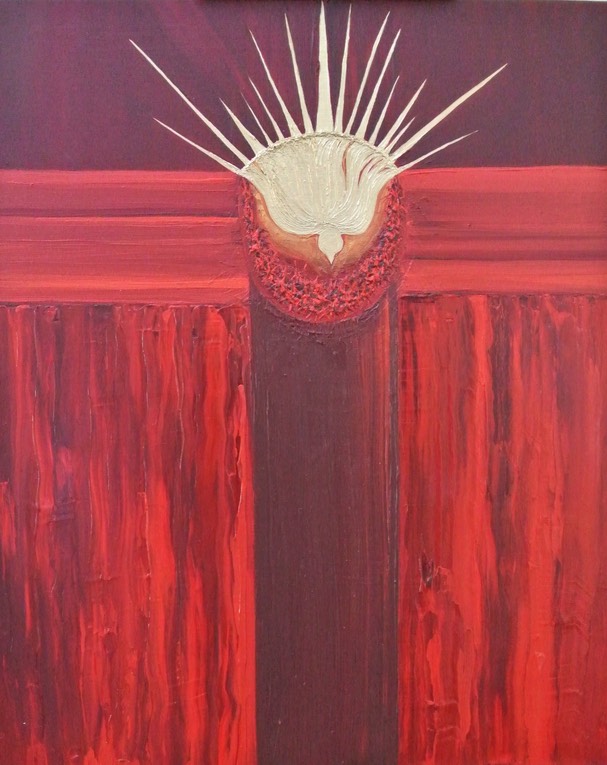 Painted by Vickie Conde
EVERY PAINTING HAS A STORY.  THIS ONE WAS DIFFERENT FROM THE BEGINNING.  MOST PAINTINGS START WITH A COAT OF WHITE PAINT.  THIS ONE WAS PAINTED IN RED FROM THE 1ST COAT.  CHRIST HEAD HUNG WHEN HE WAS DIED, THEN  HE ROSE AGAIN, AND HE SENT HIS HOLY SPIRIT.  THE CROWN OF GLORY WAS COJOINED WITH THE CROWN OF THORNS.  THE CROWN OF THORNS NOW USED AS A HEDGE OF PROTECTION.  HIS BLOOD RAN DOWN WHICH BROUGHT FORTH THE BLOOD THAT WAS SACRIFICED FOR THE SIN OF THE WHOLE WORLD.  OUR GOD HAS THE PERFECT PLAN FOR EACH OF US.  JESUS PAID THE PRICE FOR IT ALL.  
John 2:2  
And He Himself is the propitiation for our sins, and not for ours only but also for the whole world.